Welcome to the Municipality of Tweed!
POSTED |
January 14, 2016 - R. Hardesty
Water Safety Statement
Issued by Quinte Conservation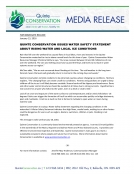 Rain that fell over the weekend has caused flows in local lakes, rivers and streams in the Quinte Conservation watershed to rise to above normal levels for this time of year. Quinte Conservation Water Resources Manager Christine McClure says, "Our area received between 30 and 40 millimetres of rain over the weekend. The rain and melting snow have caused the flows and levels to increase in water systems across our region."

McClure adds, "We are not concerned about flooding at this time. The cold weather in the long term forecast means the levels will gradually return to normal in the coming days and weeks."

Quinte Conservation reminds residents to be extremely cautious about changing ice conditions. McClure explains, "The changing flows can create unsafe ice conditions. Parents and guardians are urged to keep children off the ice as it will likely become unstable. Stream banks will be slippery and treacherous. Dams and other water control structures should be avoided at all times due to strong currents. Hypothermia is real concern for anyone who falls into the water, even in a ditch or small creek."

Lack of ice cover and exposure of the water surface to cold temperatures and/or wind chills below -18 degrees Celsius can trigger the formation of frazil ice which can accumulate quickly on bridge abutments, piers and riverbanks. Frazil ice is slush ice that is formed in turbulent, open water on rivers during extreme cold.
Quinte Conservation is issuing a Water Safety Statement regarding the changing conditions in the watershed. A Water Safety Statement indicates that high flows, unsafe banks, melting ice or other factors could be dangerous for users such as anglers, boaters, swimmers, children or pets. Flooding is not expected.
This message is valid until January 20, 2016.

Quinte Conservation is a community-based environmental protection agency. It serves 18 municipalities in the watersheds of the Moira, Napanee and Salmon Rivers and Prince Edward County. It provides cost-effective environmental expertise and leadership. Quinte Conservation's main goal is to create a sustainable ecosystem where people and nature live in harmony. More information about Quinte Conservation is available at www.quinteconservation.ca.